Mazteck Ranked Among Elite Managed Service Providers on Channel Futures 2023 NextGen 101 List
The NextGen 101 List Honors Innovative, Growing MSPs
JUNE 23, 2023: Mazteck has been named as one of the world's premier managed service providers on the prestigious Channel Futures 2023 NextGen 101 rankings. Mazteck, a leading provider of cutting-edge managed services and technology solutions, proudly announces its remarkable achievement of securing the #85 position on the prestigious Channel Futures MSP 501 list for 2023. Mazteck's remarkable achievement underscores its unwavering commitment to excellence and establishes it as a prominent player in the industry.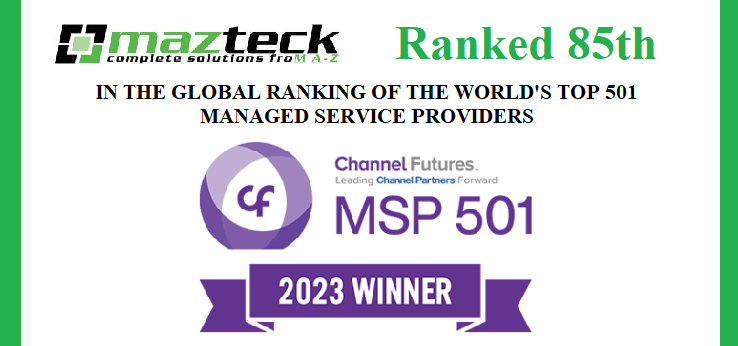 The NextGen 101 is a renowned MSP 501 list that recognizes top-tier managed service and technology providers driving innovation and growth in the tech channel. These exceptional MSPs generate recurring revenue through their cutting-edge solutions in cloud computing, security, unified communications, and more, serving clients of all sizes.
Selected from a pool of applicants for the 2023 Channel Futures MSP 501, this year's NextGen 101 winners epitomize the future of the IT industry, representing a new wave of growth, drive, and innovation.
Mario Zaki, the CEO of Mazteck, expressed his thrill and gratitude, stating, " Securing the #85 spot on the Channel Futures MSP 501 list is an immense honor for us. This recognition serves as a testament to the incredible dedication and hard work of our entire team. They consistently exceed expectations to provide exceptional managed services. It also validates our companies commitment to innovation and adaptability in the ever-changing technology landscape. We express our deep gratitude to our clients for their trust in us and the opportunity to join them on their digital transformation journey."
Mazteck has distinguished itself as a premier managed service provider by offering a comprehensive suite of solutions designed to optimize business operations, boost productivity, and mitigate risks. Their wide-ranging services cover areas such as cloud computing, cybersecurity, data management, network infrastructure, and IT support. With a team of highly skilled experts leveraging state-of-the-art technologies, Mazteck delivers tailored solutions to meet each client's unique needs.
Furthermore, Mazteck's outstanding achievement on the Channel Futures MSP 501 list deserves special recognition as it represents the highest ranking among New Jersey-based companies. This accomplishment solidifies Mazteck's trailblazing role in the local technology and managed services industry, setting a high standard for other organizations in the state.
Mazteck's exceptional capabilities, expertise, and commitment to delivering unparalleled managed services extend beyond New Jersey, reaching businesses far and wide. This achievement showcases their ability to compete globally while maintaining a strong local presence, serving as a catalyst for technological advancement within the New Jersey business community.
The MSP 501 ranking is a testament to Mazteck's consistent growth, unwavering commitment to quality, and relentless pursuit of excellence. Channel Futures, recognizing the contributions of their partner communities to the IT industry, has created the NextGen 101 as a program that exemplifies their dedication to showcasing the best in the field.
The complete 2023 MSP 501 list is online at https://www.channelfutures.com/msp-501